Objectives
Our objectives are to promote and develop cultural and educational interests in the field of music.
Perform public and private programs and concerts
Present concerts of an educational character for the benefit of the general public
Sponsor public and private programs and concerts by visiting artists and musical organizations
Record or broadcast such programs and concerts
Foster the development in the community of an appreciation for the musical arts, especially the vocal arts
Reach musical goals through the study of quality musical compositions relevant to members of the chorus and the community
Achieve growth that reaches beyond the realm of musical purpose and deepens and enriches the lives of the chorus and the community
Encourage, support, conduct, and develop other activities, including fund raising for the chorus or other not-for-profit organizations.
GALA Choruses
The Syracuse Gay and Lesbian Chorus is proud to be an active member of GALA Choruses, the international association of the lesbian and gay choral movement. Founded in 1982 by fourteen choruses, GALA Choruses has become the only international association of gay, lesbian, bisexual, transgender and allied choruses. The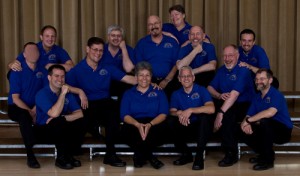 mission of GALA Choruses is inspiring and strengthening associate choruses to change their worlds through song. By fostering the artistic and organizational development of association choruses through a wide variety of programs and services, GALA Choruses produces choral festivals, educational conferences and several publications. They engage in advocacy, provide grants for the commissioning of new choral works, facilitate networking within the Association, and serve as a resource center for choruses and individual Associates from around the world. Since its inception GALA Choruses has produced six international festivals, provided more than $40,000 in matching grants for commissioned works and has provided more than 25 conferences and vocal training workshops. GALA Choruses supports more than 190 choruses singing to audiences totaling more than one million individuals. Located in Washington, DC, USA and with an average budget of $650,000, GALA Choruses' vision is embodied in the statement, Our Voices Win Freedom. For more information about GALA Choruses and its programs, call 202-467-5830 or visit us at http://www.galachoruses.org.

---